If you've ever planned a No Name-Calling Week in your school, this is probably something you've been asked or heard someone say. We certainly have! And while our answer is always a resounding, "Yes!" we know this is still far from what students experience in an overwhelming number of our schools. 
In 2012, GLSEN issued a groundbreaking research report, Playgrounds and Prejudice: Elementary School Climate in the United States. Sadly, the findings suggest that in many places students may actually experience most weeks as "name-calling week." Consider this:
Half of students (51%) and just less than half of teachers (45%) say that students at their school make comments such as "retard" or "spaz" sometimes, often or all the time
Slightly less than half of elementary students (45%) report that they hear comments like "that's so gay" or "you're so gay" from other kids at school sometimes, often or all the time while nearly half of their teachers (49%) say they hear students in their school use the word "gay" in a negative way with a similar frequency.
GLSEN's 2005 study, From Teasing to Torment: School Climate in America, A Survey of Students and Teachers suggests that students in secondary schools also experience name-calling and bullying at alarming rates.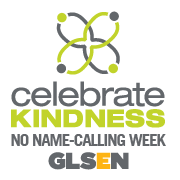 Clearly, there is a need to set aside time for a program like No Name-Calling Week and the kind of learning that it affords students! And January is a perfect time for it. For some, January may be just the right time for a classroom or school-wide intervention to address problems. For others, No Name-Calling Week may be used as a complement to year-long, school-wide efforts addressing name-calling and/or helping students to learn pro-social behaviors such as kindness.
There are as many reasons and ways to approach planning No Name-Calling Week as there are schools.  What's your school's reason for participating? What are you doing to become a No Name-Calling School this year so you can say, "It is in our school" the next time someone asks that "Shouldn't every week be No Name-Calling Week" question? 
Please share your plans with us here and use and share our resources to make your school's No Name-Calling Week the best and most effective one yet!