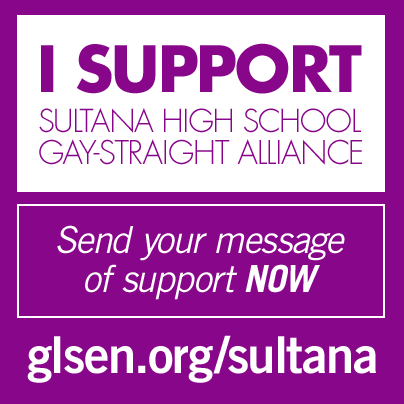 Sultana High School is censoring and discriminating against its Gay-Straight Alliance. The Hesperia, CA school is limiting the GSA from using LGBT-inclusive language and participating in activities like GLSEN's Day of Silence and Ally Week.
Today is the first school day since news broke last week during Spring Break that the ACLU of Southern California sent a letter demanding the school district stop discriminating against the school's GSA.
Tell them that they are not alone
As they return to school today, the GSA members could face retaliation for their decision to stand up to their school district.
Along with our partners at the ACLU Foundation of Southern California, It Gets Project, and the California-based GSA Network, we want to send a clear message to Sultana High GSA members as they head back to school:
We are proud of you and we've got your back.
Will you join us? Click here to send your own message to the brave LGBT students and allies.
They believe that every student deserves to be safe and treated with respect, regardless of sexual orientation, gender identity or gender expression. Help us show them that people all across the country stand with them against discrimination.