With merely hours until we bid 2013 adieu, we thought it important to check back in on all the amazing things that happened over the last 365 days. Here are some of our favorite highlights of the year. 
JANUARY
GLSEN starts the year off in whirlwind of change as we settle back into our home in lower Manhattan after over 2 months of being displaced. 
No Name-Calling Week is celebrated for the 10th time! Thousands of teachers and students participate in the national week of action. Art galleries filled with messages of hope, resiliency, and love are organized in schools across the country. (more)

FEBRUARY 
GLSEN Middle Tennessee's Jump-Start team discusses their experiences with bullying and harassment in school with Fun. This eventually leads to a GLSEN & The Ally Coalition partnership during Fun.'s nationwide tour. (more)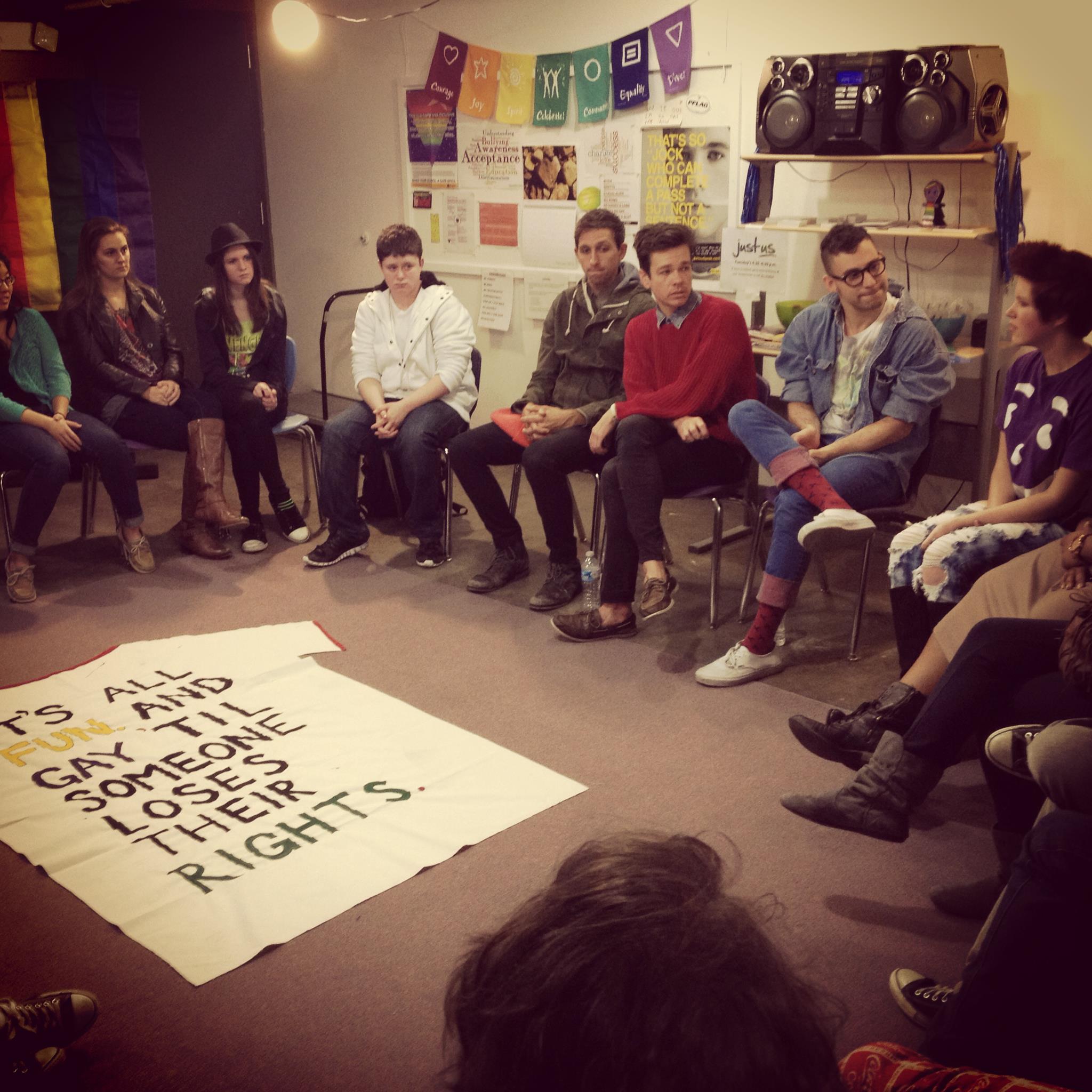 GLSEN's Research Department releases the first ever research brief examining LGBT student experiences in school sports and physical education entitled The Experiences of LGBT Students in School Athletics. (more)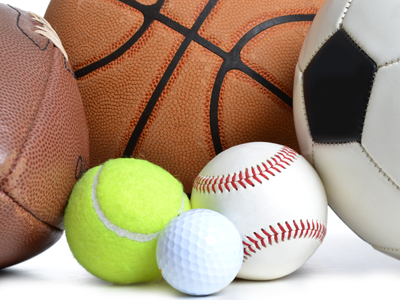 MARCH
GLSEN Greater Cincinnati is barred from participating in the Cincinnati St. Patrick's Day Parade. With thousands of petition supporters and outspoken ally organizations, the Cincinnati community rallies behind the Chapter and GLSEN's mission; city council members withdrew from the parade and local organizations walked with signs supporting GLSEN Cincinnati and youth. (more)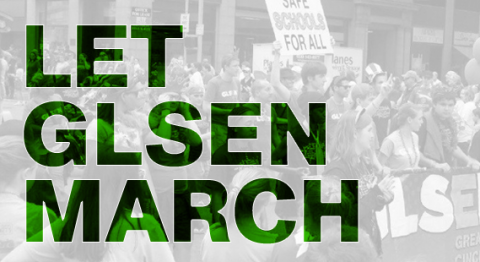 APRIL
GLSEN releases a YouTube video to set the record straight on the meaning and impact of the Day of Silence. Whose side are you on? soars on Facebook and YouTube with over 45,000 views.
MAY
Jason Collins makes his first public appearance since coming out at GLSEN's Respect Awards in New York City. He receives the 2013 GLSEN Courage Award. (more)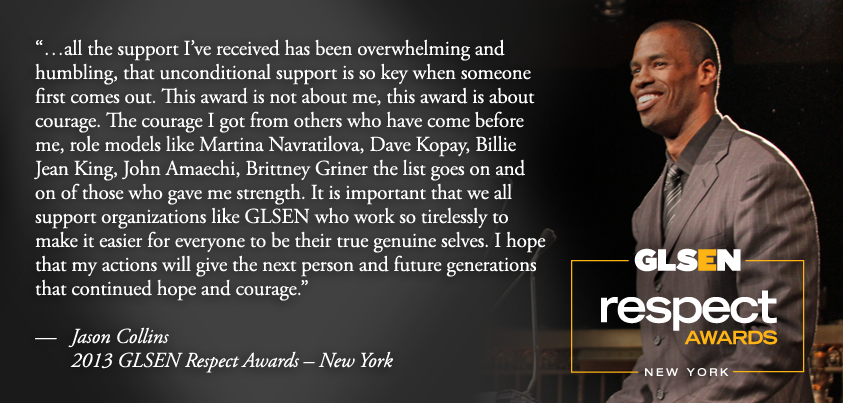 The Respect Awards in New York also has a splash of aloha as Farrington High School alumni Janet Mock presents her alma mater with this year's GSA of the Year Award. (more)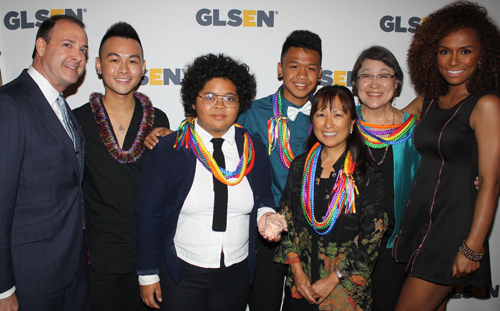 JUNE
The U.S. Department of Education announces that, for the first time, it would include a mandatory question about allegations of harassment based on sexual orientation on its Civil Rights Data Collection survey. This represents the first time the Department has asked about sexual orientation on any of its surveys. The Department will make the data collection optional for the 2014-2015 school year and mandatory beginning in the 2015-2016 school year. (more)

JULY
The GLSEN Research department releases its first ever report on the experiences of LGBT youth online, Out Online.  This report documents that LGBT students not only face greater harassment but also find greater peer support and access to health information. (more)
Transgender Student Rights is officially entrusted to GLSEN to help further its growth.  This student-founded organization was created specifically to advocate for the needs of transgender and gender nonconforming students. (more)

AUGUST
GLSEN's Executive Director, Eliza Byard, speaks at the 50th anniversary of the March on Washington. Her speech on those sacred steps honors the March on Washington, Bayard Rustin, and the responsibility we all have to lift up the voices of young people. (more)
GLSEN Pittsburgh joins forces with the Pittsburgh Pirates to promote Changing the Game, the GLSEN Sports Project in Southwestern Pennsylvania. (more) 
SEPTEMBER
Two Student Ambassadors, Liam & Paulina, represent GLSEN at the NY Times sponsored "Out Youth" panel. During this panel members of the audience were able to ask questions regarding the state of LGBT youth. The other organizations represented included the Trevor Project, the Human Rights Campaign and the True Colors Fund.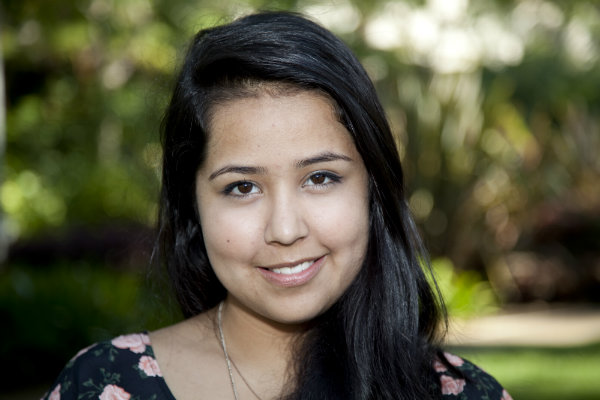 OCTOBER
Laila Al-Shamma receives GLSEN's 2013 Student Advocate of the Year award. Her amazing work in her school and for her GSA brings her to the Respect Awards in Los Angeles where she gives one of the most inspiring speeches of the night. 
Ally Week turns 9! This year we challenged ourselves not only to identify new allies and celebrate existing allies, but to ask ourselves how we can all become better allies to one another. (more)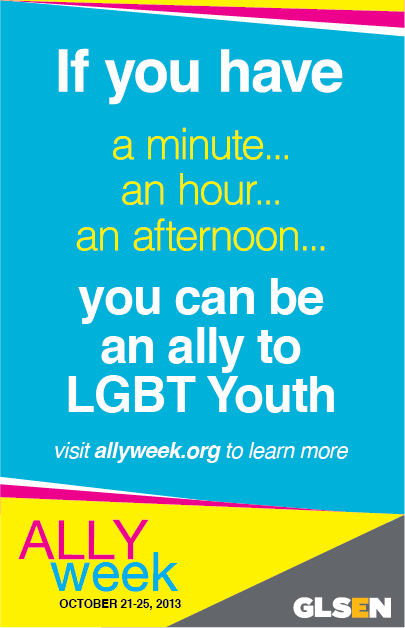 GLSEN grows to 38 local Chapters in 25 states! (find your local chapter here) 
NOVEMBER
After many discussions, House Minority Leader Nancy Pelosi signs on as a cosponsor to GLSEN's top-priority federal legislation, the Safe Schools Improvement Act. Traditionally, House leadership rarely cosponsors legislation. Pelosi's support of SSIA elevates the importance of the legislation and is key to getting other members of leadership on board. (more)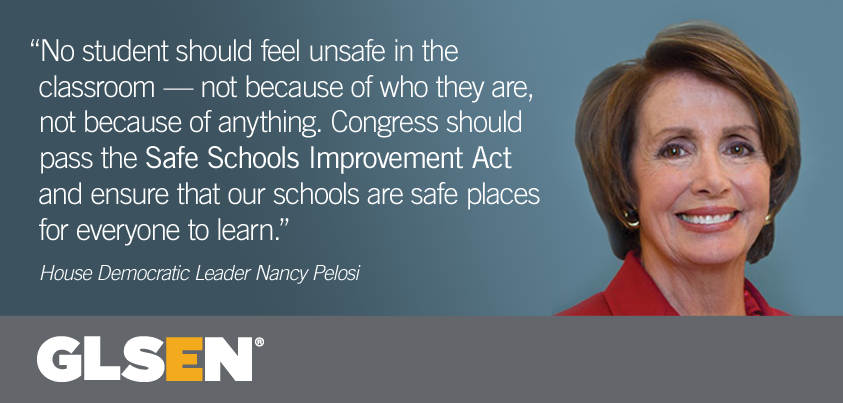 GLSEN Media Ambassador, Ashton is featured on Upworthy as he brings attention to why the safe schools movement is important to him. (more)
DECEMBER
We did it! A Safe Space Kit in every school! (more)
From all of us at GLSEN we want to wish you a Happy New Year!
Here's to a fun, fierce, and fab 2014!