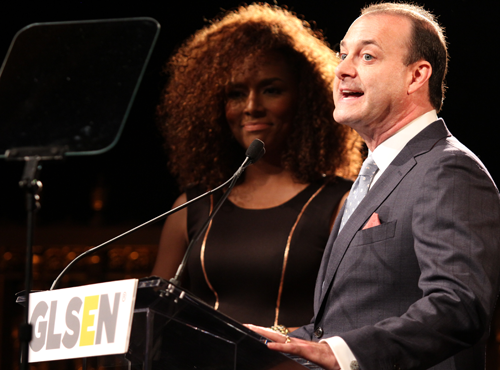 GLSEN is very fortunate to have a diverse group of supporters that understand our safe schools and why it's so significant to improving our education system. Support can be a monthly gift to someone designating a portion of their estate to GLSEN in their will.
We'd like to take a minute to give a shout out to AT&T, one of our loyal corporate partners.
This year AT&T sponsored GLSEN's Gay-Straight Alliance (GSA) of the Year award. The recognition is given to a student club that has demonstrated extraordinary leadership to ensure that all students in their school community feel safe and treated with respect regardless of their sexual orientation or gender identity/expression.
Farrington High School's GSA was selected as the 2013 GSA of the Year for extensive work in their school and Honolulu's local community.
GSA student leaders and faculty advisors traveled to New York to accept the award at GLSEN's Respect Awards. Scott Sapperstein, AT&T's Executive Director of External Affairs was on hand to represent his company and co-present the national honor. And Scott recently blogged about his experience at the Respect Awards and why AT&T is a long-standing supporter of the LGBT community.
"I am proud to work for a company that not only values diversity of its employees but supports organizations like GLSEN who are working to ensure that schools are a safe space for all students.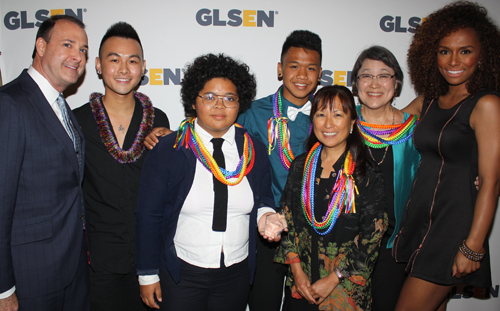 Thanks to Scott and the rest of AT&T for their ongoing commitment to GLSEN's work. And "thank you" to our many other donors that invest in GLSEN to change schools for the better. We simply couldn't do the work without you.
Did you miss the Respect Awards held in New York? Visit our recap page to browse through photos, watch videos and read about this exciting evening that raised a million dollars for our safe schools work.
And don't forget! GLSEN's Respect Awards in Los Angeles take place on October 18. Check GLSEN.org for breaking news about our honorees, event info and how you can be a part of this glamorous night.