>GLSEN is proud to honor Women's History Month by celebrating contributions of women to the LGBT and safe schools movements. Throughout March we will be recognizing heroes who have made significant contributions to the LGBT and safe schools movements. Click here for more information, and keep reading all month long for new additions!
-------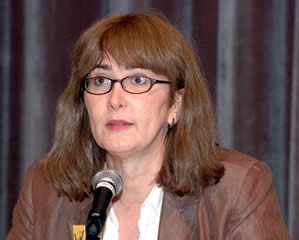 Mara Keisling
(b. 1959) is a transgender rights activist and the founding Executive Director of the National Center for Transgender Equality. The National Center for Transgender Equality was the first professionally staffed transgender-specific organization working at the national level in the United States. Mara moved to Washington D.C. after co-chairing the Pennsylvania Gender Rights Coalition, and seeing a need for a professional transgender voice in the nation's capitol. Known for her unique combination of expertise and humor, she has received numerous awards from PFLAG, the Equality Forum, GayLaw, the Transgender Law Center, the Harvard Bisexual, Gay, Lesbian, Transgender and Supporters Alliance and Out for Work, among others, and frequently speaks at events, colleges, and government agencies.
We want to know who your heroes are! If you know a woman who has contributed to the LGBT and safe schools movement, post about them on the Gay-Straight Alliances Facebook page. You can also tweet your heroes to @DayofSilence using the #GLSENWHM hash tag!