POLICY BRIEF
LGBTQ+ Data Inclusion in K-12 Education Systems
Image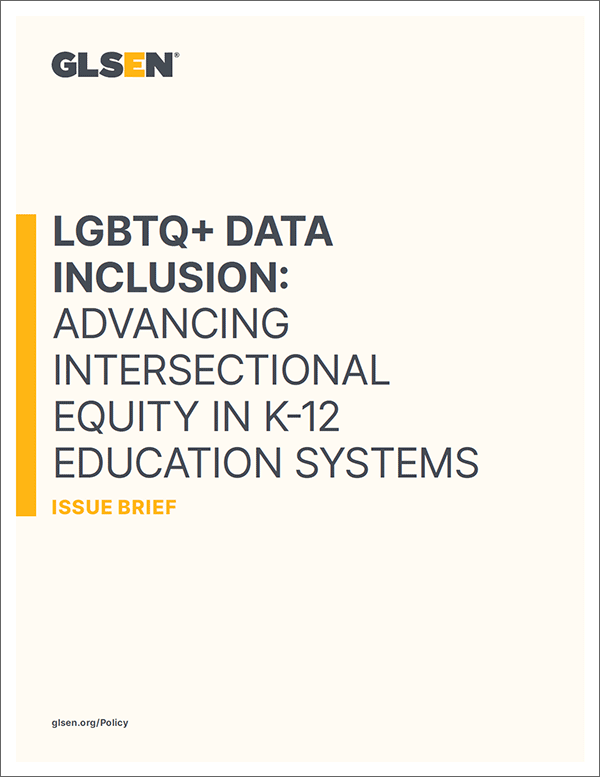 Collecting data on LGBTQ+ issues and the experiences of LGBTQ+ young people is essential both for enforcing civil rights protections and advancing racial, gender, and disability justice outcomes in K-12 education systems across the country. The absence of this data:
Is a barrier to full implementation of nondiscrimination protections;
Obscures disparities impacting LGBTQ+ young people in K-12 schools; Prevents educators from accessing the information they need to develop and evaluate the impact of programming on LGBTQ+ students and their non-LGBTQ+ peers; and
Limits the ability to assess the impact of laws, policies, and initiatives on the health and wellbeing of LGBTQ+ young people and young people with an LGBTQ+ parent, guardian, or family member.
Leading scientists, researchers, and educators agree on the need for LGBTQ+ data inclusion. In 2022, the National Academies of Sciences, Engineering, and Medicine (NASEM) published a consensus study with guiding principles for the collection of LGBTQ+ demographic data and recommended measures for collecting such data, primarily with adults.
Building on over twenty years of GLSEN's national survey research, this brief explains why LGBTQ+ data inclusion is necessary to ensure all students have access to safe and inclusive schools and details policy recommendations for LGBTQ+ data inclusion in different contexts, such as:
School climate surveys administered by schools or local education agencies, including as part of statewide accountability system;
Surveys of teachers, administrators, and other staff;
Surveys of parents and families;
Federal surveys of young people in K-12 schools, including the Youth Risk Behavior Survey and the High School and Beyond longitudinal study;
Administrative data collection, including the U.S. Department of Education's Civil Rights Data Collection.
Read our related research brief, Considerations for Measuring Sexual Orientation and Gender Identity in Surveys of Secondary School Students.