GLSEN's Mission
GLSEN strives to ensure that each member of every school community is valued and respected regardless of sexual orientation, gender identity, and/or expression. We believe that such an atmosphere engenders a positive sense of self, which is the basis of educational achievement and personal growth. Since homophobia and heterosexism undermine a healthy school climate, we work to educate teachers, students and the public at large about the damaging effects these forces have on youth and adults alike.

We recognize that forces such as racism and sexism have similarly adverse impacts on communities and we support schools in seeking to redress all such inequities.

GLSEN seeks to develop school climates where difference is valued for the positive contribution it makes in creating a more vibrant and diverse community. We welcome any and all individuals as members, regardless of sexual orientation, gender identity, gender expression, and/or occupation, who are committed to seeing this philosophy realized in K-12 schools.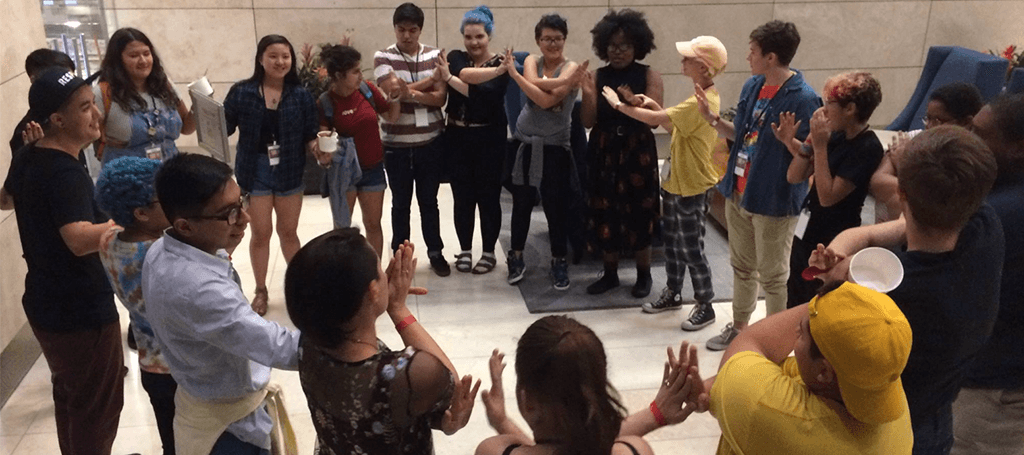 The 2017-2018 National Student Council Members in a closing circle at the 2017 summit
Summary of NSC
The National Student Council is a GLSEN-sponsored youth leadership and engagement program. It is open to all youth currently enrolled in high school in the United States. Members of the National Student Council dedicate their time, passion, and commitment to the safer schools mission while also elevating the voices of marginalized groups within the LGBTQ community, including (but not limited to) youth of color, youth with different abilities, immigrant and undocumented youth, youth who are HIV positive, youth in rural communities, and transgender, non binary, intersex, and gender nonconforming youth.
Goals
The National Student Council members advise GLSEN programming and campaigns, offer valuable insight to GLSEN's staff and Board of Directors, and share their stories with movers and shakers in the LGBTQ movement, from policymakers to media to donors. Their purpose is to be the experts of their experiences and to bring depth and breadth into GLSEN's student work to create safer K-12 schools for LGBTQ students and staff.
Responsibilities
Meet bi weekly with the entire National Student Council.
Attend an all-expenses-paid, four-day leadership summit in New York City, NY this summer, where you'll participate in workshops and gain valuable leadership experience through group exercises, and thoughtful discussions about power, privilege, oppression, and intersectionality.
Advise and participate in curating resources for GLSEN Days of Action, including Ally Week, No Name Calling Week, and Day of Silence.
Share your truth and network with influencers and talent within the LGBTQ movement at the bi annual GLSEN Respect Awards.
Benefits
Travel to GLSEN and partner sponsored events and programs
Network and organize with student leaders, community organizers, and influencers from across the country.
Gain professional development through mentorship and workshops
Resume building for college and work applications
Build leadership skills
Be a part of a movement focused on creating safer schools for LGBTQ youth K-12
---

In Their Own Words
When we take down slurs and stereotypes, what we see is so much better. Register to end name-calling in your school: https://t.co/SY62HNZenu#KindnessInAction#NoNameCallingWeek pic.twitter.com/HTSWdNpoJh – GLSEN (@GLSEN) December 14, 2017