Chris S. of GLSEN's National Student Council Reflects on LGBTQ Pride Month
By Chris Staley (She/Her)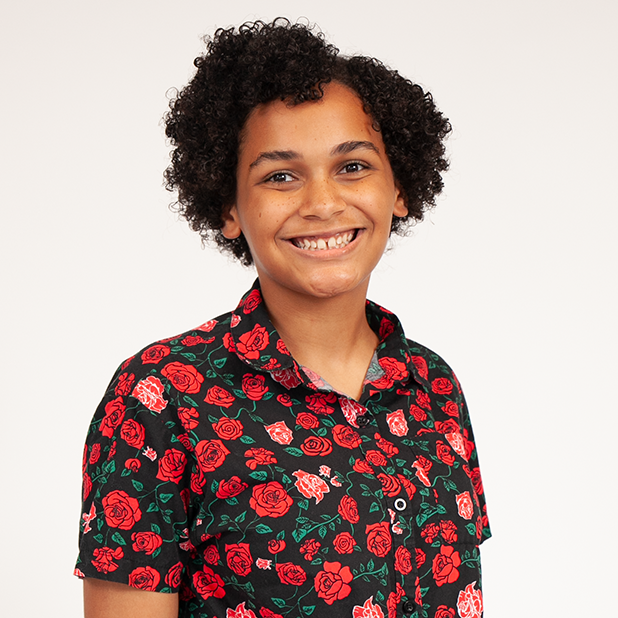 Hi! My name is Chris Staley, I use she/her pronouns and I'm on the GLSEN National Student Council! I'm from Hudson Valley, New York and I'm a senior in High School! I am very proudly mixed race, specifically Jamaican, white and Chinese, a lesbian, a dog lover and a mom friend!
Pride to me means many different things. It means resilience, struggle, and acceptance. When I talk about resilience I think about the story of our queer ancestors fighting back at the hands of an oppressive and corrupt system, demanding that we have a seat at that table just like anyone else. We are a community that has time and time again fought back in the face of adversity and discrimination. When I think of our resilience, as a community, I specifically think about all the queer people of color especially the Black queer people who have paved the way for us today but have been left out. Despite how their voices and their stories were disregarded, Black queer people were strong enough to fight for all queer people. As an immensely proud Black queer person, it is my duty to bring to light these facts and remind people they need to be counted.
Growing up I was never taught about inspiring role models like Marsha P. Johnson, Audre Lorde, Bayard Rustin and countless others. I never learned that they have constantly been the backbone of our community. Black queer people have paved the way for our community and have been fighting on the front lines since the beginning. During this present day as the Black community is fighting back at the hands of an oppressive system, we should all find Pride in our ancestors.
Celebrating our historical figures and telling children these stories is extremely important. For example, the story of Marsha P Johnson, a Black trans woman who was one of the most prominent figures in the Stonewall uprising. Telling young LGBTQ+ students how unapologetically herself she was in her identity can inspire the next generation of young people to fight for equality. Remembering our roots as a community, what our ancestors endured should inspire us to go out on the front line and help the Black community with their struggles.
Pride to me also means struggle. Like all young LGBTQ+ students, I struggled with accepting my identity. I struggled to come to terms with the fact that my Blackness and my queerness were not separate entities. It took me a long time to realize that my identity is mine and I didn't have to change or conform to be someone else's image.
I came out at 12 years old, I'm now 17. This June marks the 5th year anniversary of being out and proud. It took a lot to get there though. I was not fortunate to go to a loving and accepting school when I was 12 years old. I didn't get to hear these stories, as I mentioned before, about resilient Black queer people who changed the world. Now that I know that the Black queer community has a long legacy of standing up at the hands of adversity and never backing down, I couldn't have more pride. I wish I knew this when I was little because I can't help but feel this immense sense of pride knowing my ancestors were at the front of the fight for equality
Acceptance is another aspect of Pride that is important to me. It means overcoming these internal struggles and being proud of who you are and how far you've come. I've come a long way from this shy little girl who was incredibly unsure of herself. I know if my younger self could see me today she would be filled with an unimaginable sense of pride. This little girl would never imagine I'd be publicly out going to pride parades and using my voice to make a change in my communities.
When I went to my first Pride parade, I was overwhelmed with excitement! Seeing everyone in the parade and the spectators, immediately confirmed that this is home; this is a place where I can truly be unapologetically me! Seeing so many smiling faces, the cheering and applause, it filled me with a sense of love and happiness that is immensely hard to describe! Everyone could feel this moment of celebrating who we all are as individuals, in the community. It became so real to me and it made me realize, there's a whole community that will accept me for who I am!
As I've grown more and more confident to claim my identity over the years, I find it is now my duty to use my platform and my privilege to advocate. I have been given a platform to speak for LGBTQ+ students all across the country, to share not only our struggles but our triumphs in the hands of adversity. Students all across the country are struggling in schools that don't accept their identities and are prohibiting them from experiencing the loving feeling of pride.
To these students, I would like to remind them that they are not alone. I can say I truly understand what it is like to struggle in a school that is not accepting of who you are. But I urge these students to understand that they are not alone and that pride also means something very special. Community.
Many LGBTQ+ students struggle with families or schools that aren't accepting of who they are. Community is so important when we talk about pride because the most beautiful thing is we get to create our own chosen families. We can create a family that will be three to support us every step we take on our journey to accepting our identities. All chosen families look different but the common theme is we all here to support, love, and care for each other.
I now have this amazing platform where I get to not share my struggle but I can also educate others about these struggles. I've spent a lot of time specifically educating people on the struggles of the Black queer community. I spend a lot of time explaining the origins of racism in this country and how being complicit and simply accepting the status quo will only continue the path of racial inequality. The issues that affect the Black members of our community stem from many different things including ignorance and simply not acknowledging that there is a problem. The nation is at a state where change is needed now for the black community including the LGBTQ+ as well. There are too many injustices that must not continue. It has become my stance to educate about our past and to provide solutions for the future.
Knowing who I am has enabled me to be proud to share what I know and to stand up for what is right. I urge that now more than ever when we celebrate pride that we elevate Black voices to the forefront to show the Black members of our community that we hear their struggle and that it is time for these injustices to end. It is our duty, as a community, motivated by pride, founded by Black trans queer people of color to stand with them.