GLSEN's Youth Programs Associate Reflects on Pride Month
By Tate Benson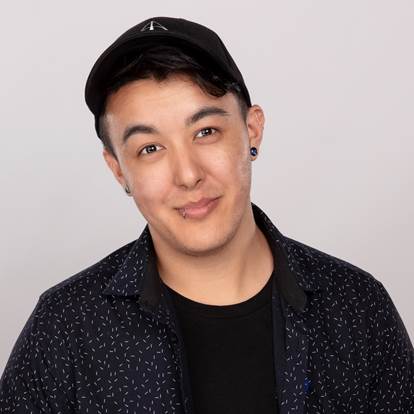 Hi everyone! I'm Tate, I use they/them pronouns, and I'm the youth programs associate at GLSEN. I help run student programming, help support chapters around putting together youth engagement programming such as this amazing event and run the GLSEN Street team. I'm a self-proclaimed goofball, I love steven universe (I use cartoons to cope), I am an active plant parent, I was raised in Minnesota in Saint Paul, I'm biracial my dad is a Korean adoptee and my mom is white, I am the eldest sibling, oh yeah I have endless love for cooking bokchoy and eating sushi.
There's this resource that is floating around that talks about your role in a movement by Deepa Iyer. It goes through the roles that someone can take in social change, lists out why all of those roles are necessary, and leads you through a reflection on what roles you take and why you take them. My role typically tends to be a hype person. I love care-taking and facilitating conversations where people can share a little bit more about themselves. That is my sweet spot, but one thing that the students that I work with including Chris share, is their bravery around speaking out and keeping people accountable. So here I am stepping up to the plate to share what I've been reflecting on in the last week when it comes to pride.
When students voice their concerns to me as an adult in their lives, I am constantly reminded that it is my responsibility to address those needs so others feel as liberated as I do when I'm in community with others that see me and validate my existence. I keep in mind those of us that we've lost along the way, Black trans folks who were murdered for finding pleasure in being who they are, specifically most recently Tony McDade, Nina Pop, the one year anniversary of Layleen Polancos death and ruling on her case, and most recently Dominique Fells and Riah Milton. Their deaths reminded me about how at stonewall Black and brown queer and trans folks like our ancestors Marsha P. Johnson and Sylvia Rivera fought back after being told their pleasure of just existing in public was a disturbance and illegal. We don't think about how Marsha P. Johnson and Sylvia Rivera were youth organizers. Sylvia Rivera was a preteen when she first met Marsha P. Johnson when she was kicked out onto the streets of New York. Together they protested in the streets, voicing the needs of Black and brown trans sex workers experiencing homelessness in New York City and established STAR making the needs known around the care that folks needed to survive and thrive.
They wanted the transwomen in our community to feel safe, loved, cared for, and centered in the work. They spoke out about the police's impact on queer and trans folks who were consistently disturbed that ability to be in community in that way they rose up to lead protests that were labeled as riots. Their fight for the trans community has produced the foundation for rights that we have today as the larger queer community.
I love those who have fought for me to exist as I am today. I love those who I am fighting with to make sure that we're creating a world where younger folks feel like they have a place in this world. This is why during pride month what I am prideful of is being a part of a community that is holding people accountable for unearthing anti-Blackness and creating new systems. I'm thinking about my fellow comrades who are continuously working to enact change. I think about the Black Vision Collective in Minneapolis advising on how the world can return to a place without police and rely on community care and mutual aid. I'm grateful for queer and trans API mentorship in my life that taught me how to love myself and be proud of my identities so that I can navigate the role in holding systems accountable. Which has then resulted in me being able to do the work to extend that knowledge outwards so that others can find pleasure in loving themselves fiercely, unapologetically, and can thrive in our queer and trans beauty.
Our history is full of folks have fought to make sure that our community feel safe, loved, and cared for and has been passed down to the current generation of young people today, I'm proud as students across the country are organizing across the country.
The GLSEN National Student Council's statement on holding organizations accountable in our complacency as non-profits across the system to make explicit statements about police brutality.
National Student Council members organizing local protests and rallies from Wisconsin to Massachusetts.
Minneapolis Black queer and trans young organizers at the forefront of the protesting that recently got cops out of Minneapolis Public Schools.
Two of the largest Bay Area anti-police brutality protests were run by students.
Nashville, Tennessee's 10,000 person protest organized by students.
New York City's student led protest over the weekend that marched from Manhattan to Brooklyn with thousands of students.
Organizations that are run by Black queer and trans young organizers across the country who have been fighting to get cops out of schools and defund the police.
And queer and trans students across the country who are hosting virtual spaces to celebrate yourselves and those around you and heading into the new school year with all of your GSA's and advocating in school.
As I am watching all of those actions being taken I have also put my allyship into action:
Continuing to mobilize my community around asks that are being made and led by Black queer and trans folks.
Having inner community demands for us to be better with my Korean queer and trans community.
Mobilizing my white and east Asian family in Minneapolis and my sister in Utah.
Showing up to protests that center queer and trans Black lives.
Donating money to organizers, bail funds, being a point person to my organizer friends when they are going to protests and I'm not.
Amplifying queer Black queer and trans youth voices and providing resources to youth in my community.
Continuing to open up doors for young people's voices and being a hype person as they are voicing needs and boundaries.
Adrienne Maree Brown has a collection of Emergent Strategy Mantras that help me stay grounded: "I am no victim to life, I shape change. We are not victims of circumstances; we shape change." I know that I have a role in the movement. And it is to love my community so fiercely and show up so that myself and youth around me can thrive. I love us in a way that fills me up with so much pride and pleasure. And my love throws me into action in a way that is fierce and unapologetic.
I look forward to hearing how each of you take roles in your community to keep the ball rolling to center Black queer and trans folks in our community. In the last week, there have been people protesting across the world to talk about Black Lives Matter, in my circles I just got word that there are protests happening in South Korea, because we need to continuously look at how anti-Blackness shows up and weed it out in each of our individual communities. I hope that you're able to do that in your communities as well.
In my relationships with folks what I take pride in is that the youth that I work with feel safe, loved, and cared for. I take pride in my participation in community care, and I know part of my love for myself is fighting for those around me. Part of my pride is being held accountable and owning up to when I don't show up for the Black queer and trans young people in my life. My liberation is connected to others continuously historically and currently. If you are just trying to survive right now I want you to know that you are loved, you are cared for, and I will continue to fight for you to be safe.