GLSEN's Days of Action
Day of Silence
April 22, 2022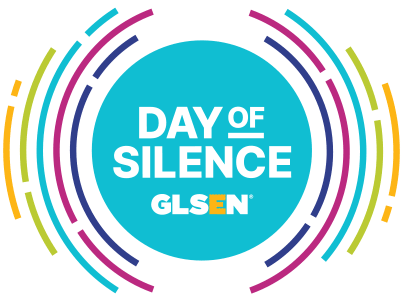 My Silence, My Action.
The GLSEN Day of Silence is a national student-led demonstration where LGBTQ students and allies  all around the country—and the world—take a vow of silence to protest the harmful effects of harassment and discrimination of LGBTQ people in schools.
Started in the mid 90's by two college students, the Day of Silence has expanded to reach hundreds of thousands of students each year. Every April, students go through the school day without speaking, ending the day with Breaking the Silence rallies and events to share their experiences during the protest and bring attention to ways their schools and communities can become more inclusive.
How to Participate
Register and Attend:
Register to get the latest updates on Day of Silence resources and special opportunities like celebrity engagements. And don't forget to share on social media about GLSEN's Day of Silence, encouraging students and educators to register.
Check Out & Download Resources:
Check out some of our resources for this year's Day of Silence! Whether you're participating in-person, virtually, or a hybrid of both, we've got some stories and resources for your support. We've got you covered with virtual and in-person guides, Zoom backgrounds, palm cards, and Break the Silence rally guides.
Read the Zine and Blogs
If this is your first time attending the Day of Silence, fear not! Check out our 2021-2022 National Student Council's, Day of Silence Zines and stories. Learn and get inspired about their experiences during previous years of the Day of Silence through stories and other creative outlets.
Break the Silence
On Day of Silence, after taking a vow of silence, break the silence with a virtual rally or assembly to build momentum and show your commitment to making your school more LGBTQ-inclusive. Join GLSEN national online at 7:00 p.m. ET for the virtual Breaking the Silence rally on our Instagram page!
We know students this year are in a diverse range of learning environments. Below are activities and resources for virtual, hybrid, or in-person observance of the Day of Silence.
Endorsers
These organizations are strong supporters of Day of Silence!