GLSEN with Pride
Give OUT Day 2022
Support your GLSEN Chapter Network this Give OUT Day 2022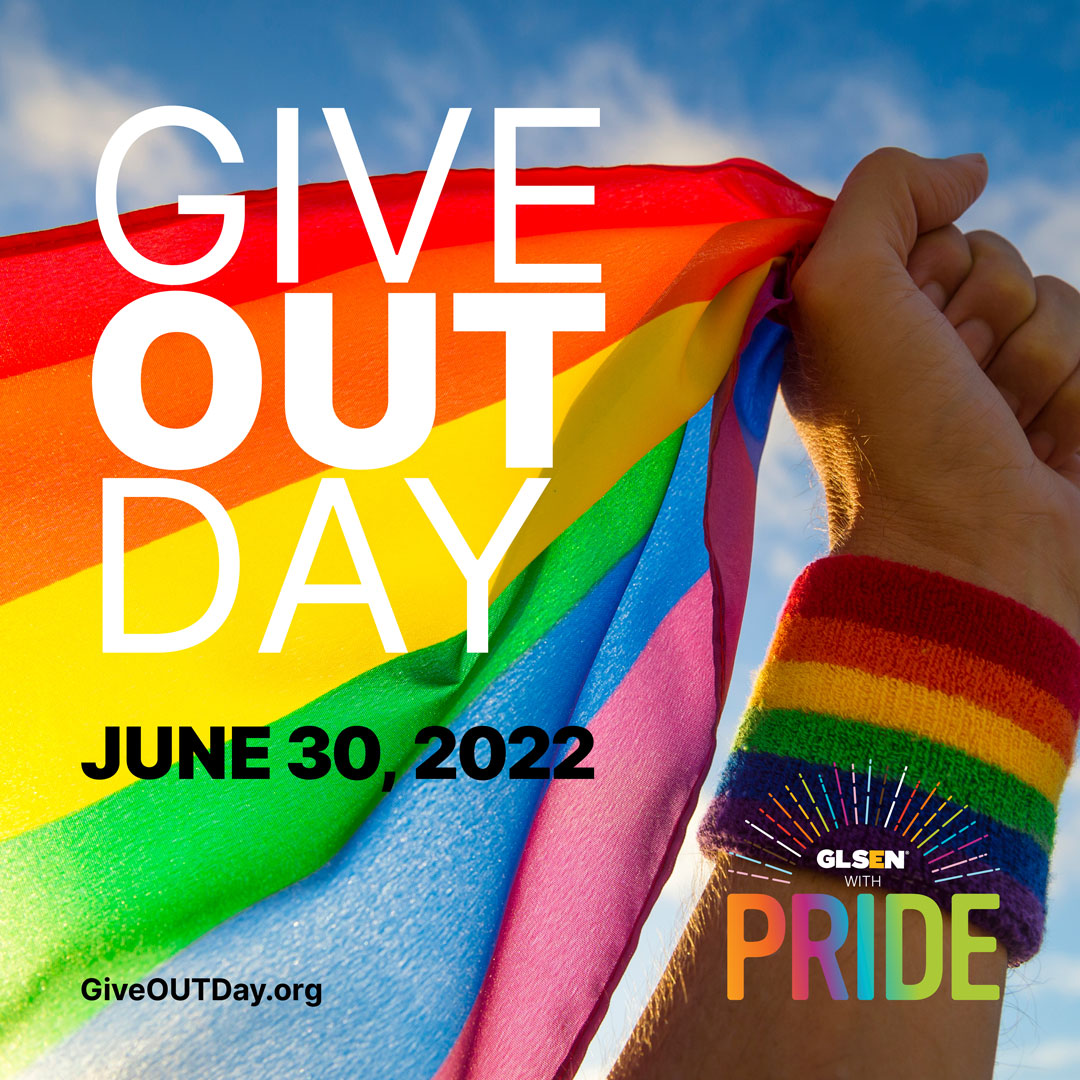 Give OUT Day is the only national day of giving specifically for the LGBTQ+ community since 2013. Hosted by Horizons Foundation, the world's first LGBTQ+ community foundation, Give OUT Day supports diverse LGBTQ+ organizations – from community centers to advocacy groups, arts groups to sports leagues – in all 50 states, D.C., and Puerto Rico.
On June 30, 2022, Horizons Foundation will host a 24-hour giving event encouraging charitable donations through their online giving platform GiveOUTDay.org. Please consider showing your support by giving a gift during Give OUT Day to your GLSEN Chapter Network!
Check out the list below of all our Chapters and links to their Give OUT Day donation pages.
GLSEN Albuquerque
GLSEN Austin
GLSEN Bucks County
GLSEN Central Ohio
GLSEN Connecticut
GLSEN Greater Fort Wayne
GLSEN Greater Huntsville
GLSEN Kansas
GLSEN Lower Hudson Valley
GLSEN Massachusetts
GLSEN Mid-Hudson
GLSEN Northeast Ohio
GLSEN Northern Utah
GLSEN Northern Virginia
GLSEN Oregon
GLSEN Phoenix
GLSEN San Diego
GLSEN Southern New Jersey
GLSEN Tennessee
GLSEN Washington State
GLSEN Arkansas
GLSEN Bluegrass
GLSEN Central New Jersey
GLSEN Collier County
GLSEN Greater Cincinnati
GLSEN Greater Kansas City 
GLSEN Green Bay 
GLSEN Los Angeles
GLSEN Maryland
GLSEN Merced
GLSEN New Hampshire
GLSEN Northwest Ohio
GLSEN Northern New Jersey
GLSEN Omaha
GLSEN Philly
GLSEN Richmond
GLSEN Southeast Michigan
GLSEN Tampa Bay
GLSEN Upstate New York
GLSEN Yuma