Report
The GSA Study Report
Results of National Surveys About Students' and Advisors' Experiences in Gender and Sexuality Alliance Clubs
Image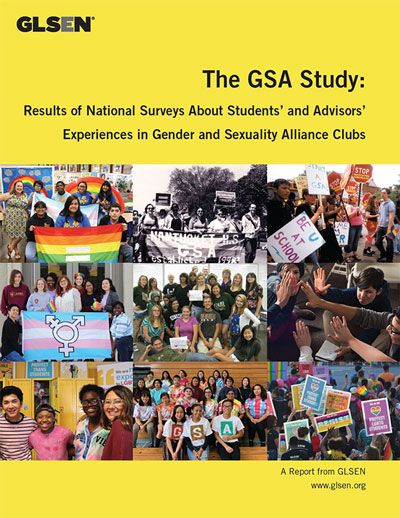 The GSA Study is the first comprehensive report on the experiences of students and advisors in GSAs across the United States. GSAs, commonly known as Gender and Sexuality Alliances, were first started over 30 years ago in the United States and provide LGBTQ students with a safe and affirming space within their often hostile school environments.

Data from the National School Climate Survey has shown a significant increase in the number of these clubs over time, since 2001. Additionally, GLSEN research has found that the presence of GSAs at school can have a positive impact on the experiences of LGBTQ students and can help alleviate the negative effects of a hostile school climate experienced by these youth.
GSAs are an important and growing resource for LGBTQ students at school. This report adds to what we know about GSAs from the National School Climate Survey and provides a more in-depth understanding of LGBTQ students' and advisors' experiences within their schools' GSAs. 
Using original and secondary data sources, we specifically examine:
Who goes to GSAs and if there are differences by race/ethnicity, sexual orientation, and gender;
Activities that GSAs engage in and how these activities impact students school experiences;
Resources that GSA students and advisors use and find helpful, as well as resources that they need;
Challenges that students and advisors face in their GSA, and how they resolve these challenges;
Experiences and perspectives of GSA leaders, including student leaders and advisors; and
Advisors' professional development and feelings of competence working with all LGBTQ students.