Melanie Willingham-Jaggers Named New Executive Director of GLSEN
Image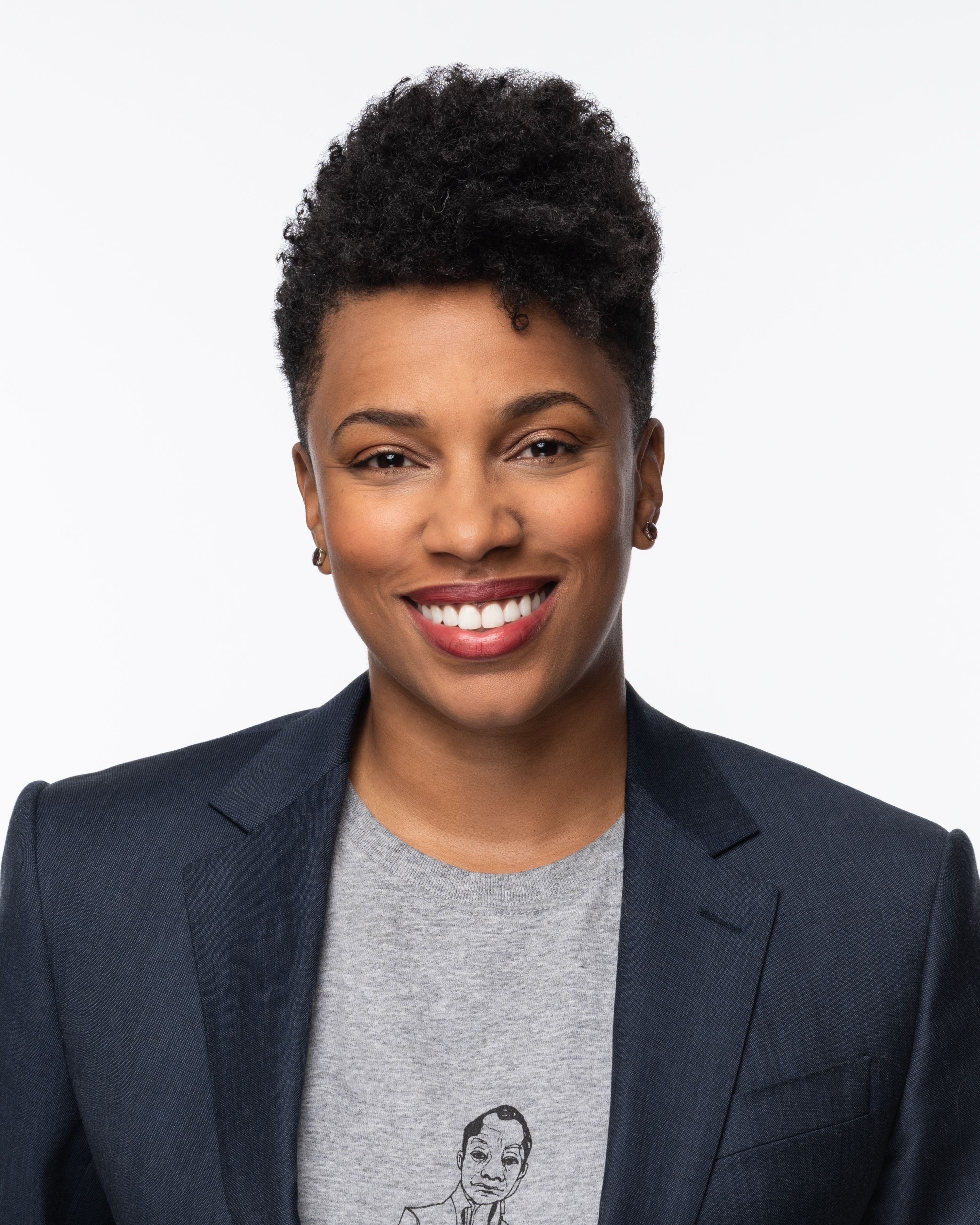 FOR IMMEDIATE RELEASE
Contact: press@glsen.org
Melanie Willingham-Jaggers Named New Executive Director of GLSEN
GLSEN's First Black, Nonbinary Executive Director Commits to Prioritizing Racial Justice, Gender Justice and Disability Justice
NEW YORK (Jan. 26, 2022) – Today, GLSEN, the leading national organization working to guarantee lesbian, gay, bisexual, trans, and queer (LGBTQ+) students a supportive and empowering education—announced Melanie Willingham-Jaggers (they/she) will be the organization's new Executive Director.
"LGBTQ+ students across the country are facing a crisis amid attacks on their rights and the ongoing pandemic, and we need bold leadership now more than ever," said Rocío Inclán, GLSEN Board of Directors Chair. "A true leader for their community, Melanie always looks first to the grassroots leadership of the LGBTQ+ youth of color, trans youth and youth with disabilities who are on the frontlines, and centers their experiences and needs in all GLSEN's work. Melanie is exactly the leader our movement needs to bring our fight for LGBTQ+ justice to the next level as GLSEN's Executive Director."
The news of Willingham-Jaggers' new position was welcomed by additional leaders and advocates in the LGBTQ+ and education movements, as well as those in the fight for social justice among marginalized communities, including GLSEN founder Kevin Jennings, former GLSEN Executive Director Eliza Byard, Antoni Porowski, Wilson Cruz, Alicia Garza, Lateefah Simon, Ryan Li Dahlstrom, Marlene Sanchez, Brian Bond, Kierra Johnson, and Rodrigo Heng-Lehtinen.
GLSEN has advocated for our nation's K-12 schools since 1990 to be safer, more affirming, and inclusive environments for all youth. Willingham-Jaggers becomes the first person of color, first nonbinary person, and first Black woman to lead the organization in its three decade existence. They joined GLSEN in 2019 as Deputy Executive Director before becoming Interim Executive Director in early 2021.
"I am thrilled to continue and accelerate the important work GLSEN started more than 30 years ago," said Willingham-Jaggers. "Education is the cornerstone of our democracy and GLSEN's work is rooted in the belief that education can and should be an experience that is safe, inclusive, and affirming for all students. I am committed to ensuring our organization lives up to that promise and advances work based always on GLSEN's core strategies: anti-racism, gender justice and disability justice."
Willingham-Jaggers brings extensive experience as a leader in the social justice movements, including in curriculum design, facilitation, organizing within and beyond various marginalized and intersecting communities, such as including those who are currently or formerly incarcerated, involved in the underground economy, LGBTQ+, youth, immigrants, people with disabilities and senior citizens. They also have a proven track record of building and running successful high-impact programming, training and developing individuals and leading teams, as well as designing effective and value-responsive infrastructure that drive high levels of performance and impact across the organization.
"The appointment of Melanie Willingham-Jaggers heralds an exciting new chapter in the organization's history," said Kevin Jennings (he/him), CEO, Lambda Legal and GLSEN founder. "I look forward to seeing GLSEN reach new heights under their leadership."
"Melanie's expertise as an organizer and deep connections across movements are invaluable for the next chapter of GLSEN's work," said Eliza Byard, Senior Advisor, Campaign for Our Shared Future and GLSEN former Executive Director. "The world of K-12 schools has been turned completely upside-down over the past few years, and Melanie's vision and experience will provide the essential ingredients of new strategies for a new time."
Before joining GLSEN, Willingham-Jaggers served as the program associate director of The Worker Institute at Cornell University's School of Industrial and Labor Relations. As a part of the leadership team, they worked to ensure the strategic, programmatic, and operational excellence of the Institute.
"With Melanie's lifelong experience as an advocate and commitment to putting the voices of LGBTQ+ youth at the forefront of their work, GLSEN is ready to tackle this year's new challenges. I'm grateful to join GLSEN and Melanie as they continue to work for LGBTQ+ equity in K-12 education for our nation's students," said Antoni Porowski.
From 2016-2019, Willingham-Jaggers also served as board chair of The Audre Lorde Project (ALP), the oldest center for community organizing for Lesbian, Gay, Bisexual, Two Spirit, Trans and Gender Non-Conforming People of Color, in the New York City area. Melanie's work on the ALP board was rooted in the belief that as long as there are organizations connected to our freedom movements – those organizations must be internally safe, healthy and vibrant spaces, on which movements can rely if they so choose.
Additional statements of support
"I'm honored to work alongside a dedicated, skilled advocate like Melanie. She's a force to be reckoned with and I'm eager to see GLSEN continue to build power for our movement and shift the needle on the issues that matter to LGBTQ+ young people," said Wilson Cruz, GLSEN Executive Board Member.
"The LGBTQ+ movement, including PFLAG in particular, benefits from the leadership of organizers like Melanie Willingham-Jaggers in their new role as Executive Director at GLSEN. Both our organizations understand that youth who are targets of discrimination, such as LGBTQ+ youth who are Black, brown, Native, newcomer, and who have disabilities, can and do lead the way to liberation and equality. At a time when some adults in power claim that youth in schools need to be shielded from accurate and inclusive education, the role of GLSEN together with PFLAG becomes all the more important. I, for one, look forward to a continued dynamic partnership with GLSEN with Melanie as Executive Director," said Brian K. Bond, Executive Director of PFLAG National.
"Amidst the ongoing global pandemic and challenging time for many of our communities, Melanie Willingham-Jaggers' new role as GLSEN's next Executive Director gives me hope for what's possible in creating safer, affirming, and supportive environments for LGBTQ+ youth. I'm glad to know Melanie's visionary leadership will be leading the way toward LGBTQ+ justice in our schools, communities, legislative policies, and beyond," said Ryan Li Dahlstrom (he/him), Director of Programs, Borealis Philanthropy.
"Building the power of communities that have been left out and left behind takes dedication, vision, strategy and courage. Melanie Willingham-Jaggers is exactly that kind of leader — committed to making sure our communities are not just at the table, but setting the agenda. We are ready for Melanie's leadership and this exciting new phase of the GLSEN movement," said Alicia Garza (she/her), principal of Black Futures Lab and the Black to the Future Action Fund.
"Throughout their career, Melanie Willingham-Jaggers has served as an invaluable advocate in the pursuit for transgender equality, especially in K-12 education. Melanie has the vision, dedication, and commitment to lead GLSEN to new heights and the endurance for the ongoing fight for representation and equal access for trans students and educators. NCTE congratulates Melanie and we look forward to our ongoing partnership with GLSEN to continue this fight," said Rodrigo Heng-Lehtinen (he/him), Executive Director, National Center for Transgender Equality.
"I am thrilled to see Melanie take the helm at GLSEN, not only as a colleague and leader in our movement for LGBTQ+ rights but as a parent whose children will benefit from her work. Our youth - especially trans, gender fluid, non-binary youth and queer youth of color - are being targeted in unprecedented ways and GLSEN's work to educate, advocate and mobilize to make schools safer is a critical piece of our responsibility to the generation coming out and coming up in the world," said Kierra Johnson (she/they), Executive Director, National LGBTQ Task Force.
"Melanie Willingham-Jaggers is a champion for the rights for all, especially youth who are most marginalized and affected by discrimination. Melanie's understanding of racial, gender, and disability justice for students in K-12 schools and drive to take action for those who are LGBTQ+, BIPOC, neurodivergent, and have disabilities makes Melanie a leader youth can look up to. Congratulations to GLSEN for selecting a lifelong champion like Melanie as Executive Director," said Marlene Sanchez (she/her), Deputy Director, Ella Baker Center for Human Rights.
"Melanie is brave, brilliant, and fierce. She and I both got our start nearly twenty years ago working on the streets and in prisons and jails: supporting system-involved young women of color. She was and remains one of our movement's sharpest allies, educators, and organizers. Her profound commitment and belief in the power of young people - and their capacity to change narratives and policies is evident in all that she does. I'm looking forward to watching GLSEN shine in this new season. Deep congratulations!" said Lateefah Simon, President, Meadow Fund and Member, BART Board of Directors.
---
About GLSEN
GLSEN works to create safe and inclusive schools for all. GLSEN envisions a world in which every child learns to respect and accept all people, regardless of sexual orientation, gender identity, and/or gender expression. Each year, GLSEN programs and resources reach millions of students and educators in K-12 schools, via action at the national, state, and local level. Since 1990, GLSEN has improved conditions for LGBTQ+ students across the United States and helped launch an international movement to address LGBTQ+ issues in education.