New Research Finds LGBTQ+ Students Less Likely to Participate in Sports
FOR IMMEDIATE RELEASE
Contact: press@glsen.org
New Research Finds LGBTQ+ Students Less Likely to Participate in Sports, Despite Positive Effects
GLSEN Brief Emphasizes Lack of Access for Trans and Nonbinary Athletes
NEW YORK (Feb. 24, 2022) – Today, GLSEN, the leading national organization working to guarantee LGBTQ+ students safe and affirming education, released a new research brief illustrating the experiences of LGBTQ+ students participating in sports and athletic activities.
Sports participation has positive effects on youth development, improving physical health, social skills and psychological well-being. Additionally, research has found that sports participation is related to greater feelings of school belonging and pro-school behaviors. Despite these benefits, some research has found negative effects of sports participation among LGBTQ students, including social exclusion and feeling unsafe, which are associated with increased mental health challenges.
"Across the country, we are seeing a discriminatory wave of attacks targeting our trans student athletes," said Melanie Willingham-Jaggers, GLSEN Executive Director. "Every student should have the same educational opportunity, including being part of a sports team. Young people learn life-long lessons from playing sports with their peers, including teamwork, sportsmanship, self-discipline, and how to be a leader. Trans and nonbinary students want to play sports for the same reason as all student athletes: to be a part of a team where they feel like they belong."
The purpose of this brief is to illustrate the sports-related experiences of LGBTQ students. This brief examines what predicts LGBTQ students' participation in sports, describes LGBTQ students' experiences of discrimination within sports, and examine benefits to sports participation for LGBTQ students. The brief further explores whether there are differences in both access to and benefits of sports participation for trans and nonbinary students.
Key findings from the new research brief include:
Participation in school sports can have beneficial effects for students, yet sports-related spaces at school are often seen as unsafe and unwelcoming spaces for LGBTQ students and these students are much less likely to be involved in these activities.
Trans and nonbinary students face harsher sports-related experiences, and many have been discouraged or denied access to sports-related spaces and activities. Trans and nonbinary students were more likely to have reported sports-related discrimination at school.
When LGBTQ students are involved in school sports, they experience greater well-being including higher levels of self esteem, lower levels of depression, and greater school belonging.
Students' greater comfort with their P.E. teacher or coach was related to less avoidance of sports-related spaces at school for LGBTQ students.
To read GLSEN's new research brief on LGBTQ students and school sports participation, click here.
---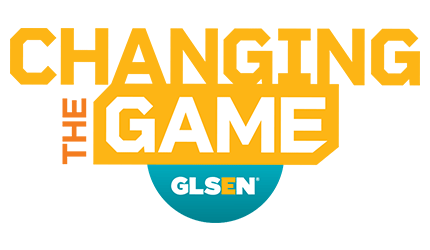 GLSEN's Changing the Game is a groundbreaking program that started in 2011 to give resources for educators and students to ensure that physical education classes and athletics are inclusive for LGBTQ+ individuals. Explore and learn about our revised and expanded program, which includes updated and new resources, educational training, engagement opportunities, and stories from LGBTQ+ young athletes and their supporters. 

LEARN MORE >
---
About GLSEN
GLSEN works to create safe and inclusive schools for all. GLSEN envisions a world in which every child learns to respect and accept all people, regardless of sexual orientation, gender identity, and/or gender expression. Each year, GLSEN programs and resources reach millions of students and educators in K-12 schools, via action at the national, state, and local level. Since 1990, GLSEN has improved conditions for LGBTQ+ students across the United States and helped launch an international movement to address LGBTQ+ issues in education.