Research Report
The 2013 National School Climate Survey
The Experiences of Lesbian, Gay, Bisexual and Transgender Youth in Our Nation's Schools
Image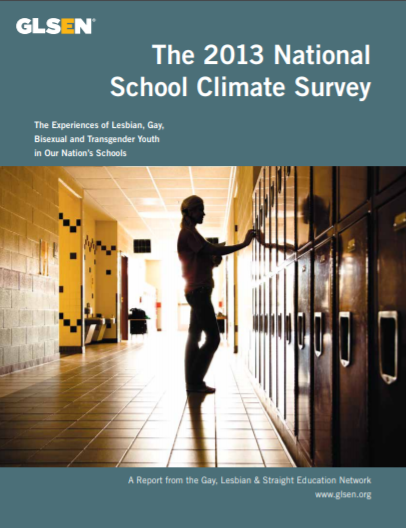 The 2013 National School Climate Survey was conducted online. To obtain a representative national sample of lesbian, gay, bisexual, and transgender (LGBT) youth, we conducted outreach through national, regional, and local organizations that provide services to or advocate on behalf of LGBT youth, and conducted targeted advertising on the social networking sites, such as Facebook and Reddit. To ensure representation of transgender youth, youth of color, and youth in rural communities, we made special efforts to notify groups and organizations that work predominantly with these populations.
The final sample consisted of a total of 7,898 students between the ages of 13 and 21. Students were from all 50 states and the District of Columbia and from 2,770 unique school districts. About two thirds of the sample (68.1%) was White, slightly less than half (43.6%) was cisgender female, and over half identified as gay or lesbian (58.8%). Students were in grades 6 to 12, with the largest numbers in grades 10 and 11.
See the full report for more details.