Research Brief
Laws that Prohibit the "Promotion of Homosexuality"
Impacts and Implications
Image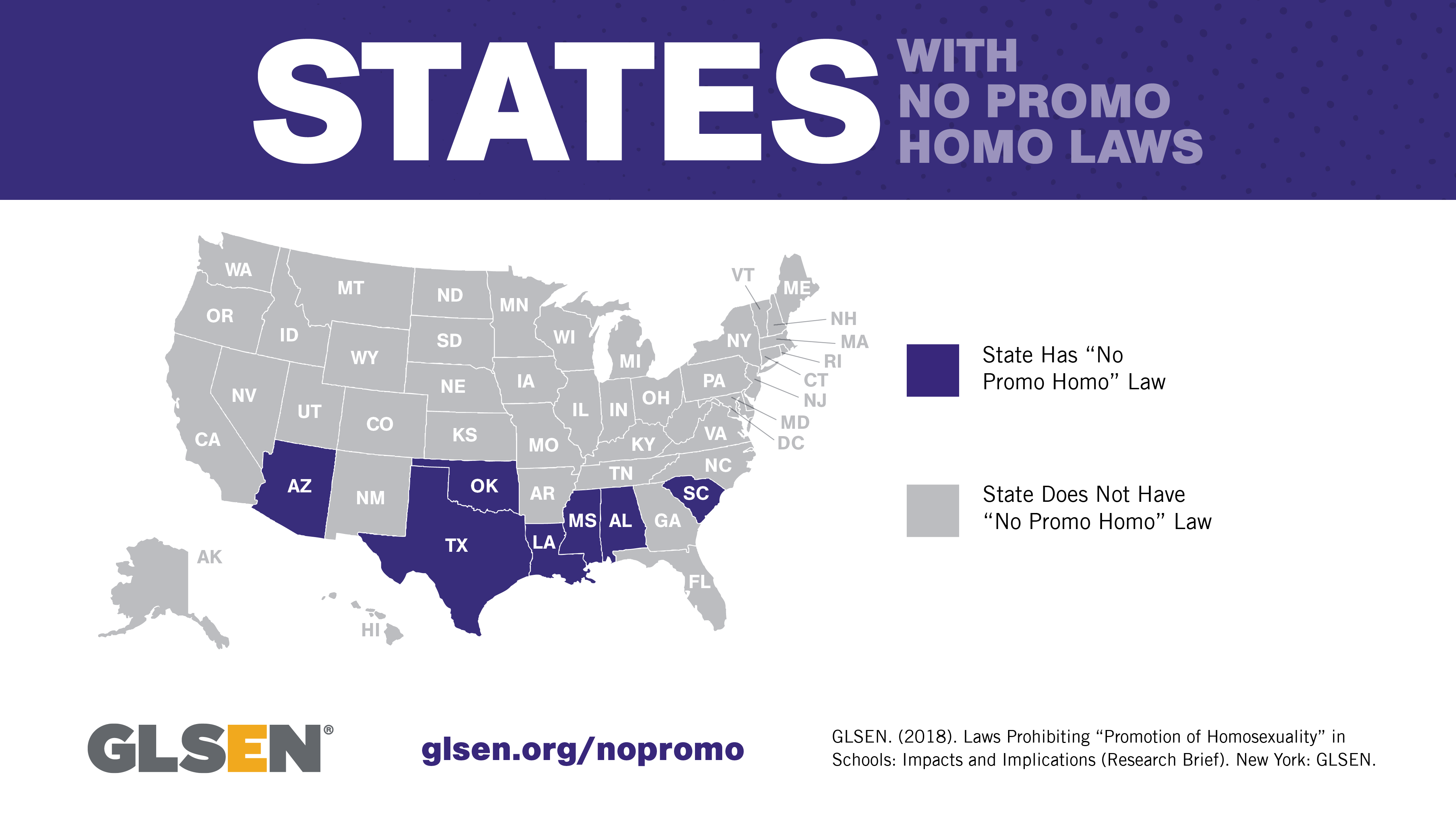 GLSEN's research brief Laws that Prohibit the "Promotion of Homosexuality": Impacts and Implications provides an examination of the differences in the school environment for LGBTQ students between states with laws that prohibit the positive portrayal of homosexuality in schools, known as "no promo homo" laws, and states without such laws. Although these laws are specific to health/sexuality education, they are often applied more broadly. The brief discusses the relationship between these laws and assesses student victimization, educator supports, health services, and other LGBTQ-related school resources, pulling from three diverse data sources – a national sample of LGBTQ secondary students from GLSEN's 2015 National School Climate Survey, a national sample of secondary teachers from GLSEN's From Teasing to Torment: School Climate Revisited, and nationally representative samples of school administrators and health professionals from the Centers for Disease Control and Prevention's 2014 School Health Policies & Practices Study.
Even after accounting for state differences in demographics, geographic region, urbanicity, education spending, and political attitudes, schools in states with "no promo homo" laws were:
Less likely to have teachers and administrators who were supportive of LGBTQ students
Less likely to address LGBTQ people and topics in their curriculum overall, but were more likely to include negative LGBTQ representations
Less likely to have other supportive resources including student clubs such as GSAs, comprehensive anti-bullying policies, LGBTQ-inclusive library resources, and the ability to access LGBTQ-related internet content
Less likely to have LGB-inclusive school health services
Other differences between states with and those without "no promo homo" laws were also found, after accounting for demographics, geography, and state education spending. LGBTQ students faced more frequent homophobic remarks and greater anti-LGBTQ victimization, as well as less acceptance from other students in "no promo homo" states. Teachers in states with these laws were less likely to display visual support for LGBTQ students, such as "Safe Space" posters, and less likely to serve as GSA advisors. However, for the most part, these specific differences diminished once we accounted for differences in political attitudes in the states.
The brief concludes with recommendations for improving school environments for LGBTQ youth in states that currently have "no promo homo" laws and states that do not.
Share on Social
In 7 states, "no promo homo" laws prohibit educators from "promoting homosexuality" – and they hurt #LGBTQ students. Our latest research: https://t.co/RGFlNfDt0h pic.twitter.com/04tBRNRE2T
— GLSEN (@GLSEN) January 30, 2018