Book Chapter
Suicidal Ideation and Bullying among Trans & Non-Trans Youth
from Youth Suicide and Bullying: Challenges and Strategies for Prevention and Intervention
Image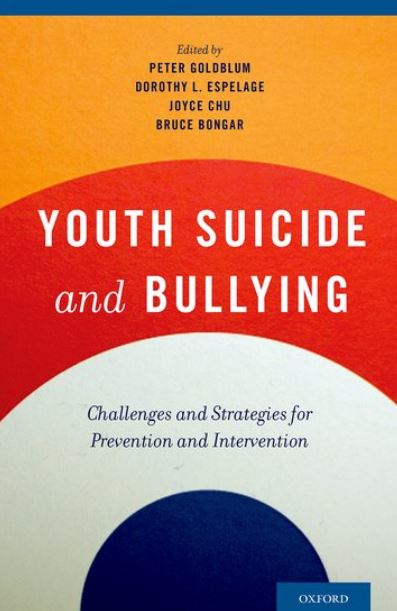 Chapter: The Relation between Suicidal Ideation and Bullying Victimization in a National Sample of Transgender and Non-Transgender Adolescents
By: Ybarra, M. L., Mitchell, K. J., & Kosciw, J. G.
In: Youth Suicide and Bullying: Challenges and Strategies for Prevention and Intervention (2014)
Editors: Goldblum, P.,  Espelage, D. L., Chu, J., and Bognar, B.
"High profile media reports of young people committing suicide after experiencing bullying have propelled a national conversation about the nature and scope of this problem and the means to address it. Specialists have long known that involvement in bullying in any capacity (as the victim or as the perpetrator) is associated with higher rates of suicidal ideation and behaviors, but evidence about which bullying subtype is at greatest risk is more mixed. For instance, some studies have shown that the association between suicidal ideation and bullying is stronger for targets of bullying than perpetrators. However, another study found that after controlling for depression, the association was strongest for perpetrators. Similar disagreement persists with regard to gender disparities relating to bullying and self-harm, for instance.
Youth Suicide and Bullying presents an authoritative review of the science demonstrating the links between these two major public health concerns alongside informed discussion and evidence-based recommendations. The volume provides sound, scientifically grounded, and effective advice about bullying and suicide at every level: national, state, and community. Chapters provide details on models of interpersonal aggression; groups at risk for both bullying and suicide (such as sexual minorities); the role of stigma; family, school, and community-based youth bullying and suicide prevention programs, and more. Each chapter concludes with recommendations for mental health providers, educators, and policymakers. Compiling knowledge from the most informed experts and providing authoritative research-based information, this volume supports efforts to better understand and thereby reduce the prevalence of victimization and suicide."