GLSEN's Days of Action
Solidarity Week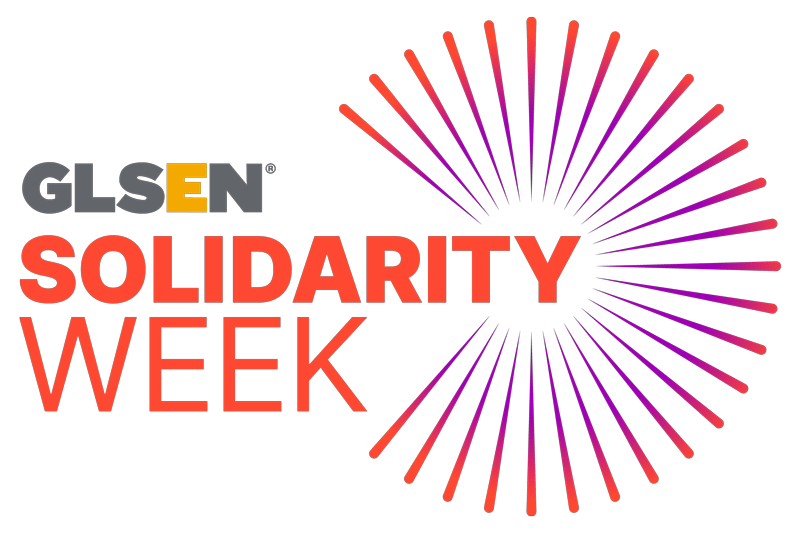 Solidarity is voluntary, collective, sustained action based on an understanding that we don't all share the same risks, and we must work across all differences to ensure that every student has the right to a safe, supportive, and LGBTQ+-inclusive K–12 education. Solidarity involves bringing together different people based on finding common objectives and solutions. Solidarity work happens when you show up to support others experiencing harm and oppression by centering their experiences, leadership, decisions, needs, requests, and ideas.
You may have already practiced solidarity in some form, whether you were taking action in your classroom, school, or broader community. In the days after the tragedy at Marjory Stoneman Douglas High School in Parkland, Florida, students organized the largest single day of protest against gun violence in history. In June, protests broke out across the country demanding justice for George Floyd, a Black man who was killed by police in Minneapolis, MN. As more murders of Black people including Black transgender women, young people started organizing their own protests addressing anti-Blackness and racism in their schools. Many of you participated in GLSEN's Day of Silence, the largest LGBTQ+ student-focused and led action to raise awareness around the bullying, harassment, and erasure of LGBTQ+ students in schools.
Solidarity work happens in many forms and on many different issues.
The important part of understanding solidarity work is that collective action is powerful in enacting change. In fact, solidarity can either be the biggest threat to oppression or one of the biggest allies in upholding and reinforcing it. How you show up, or don't, makes all the difference.
Ally Week to Solidarity Week
As an organization dedicated to safe and inclusive schools for LGBTQ+ students and educators in K-12 schools for 30 years, the decision to change Ally Week to Solidarity Week was heavily influenced by student feedback, the current climate, and the responsibility to adjust language, ideas, and actions that are appropriate and reflect the voices of those we serve and center those most impacted by oppressive systems and behaviors.
Solidarity Week is a student-powered campaign dedicated to building collective support for LGBTQ+ students and educators. This week-long program helps people learn about and practice solidarity across different and intersecting identities.
Join the Conversation
LGBTQ+ students, how can people at your school and in your communities be in solidarity with you? How are you showing solidarity with others? Share on social media using #SolidarityWeek, and start the conversation in your digital spaces!
---
Learn
Recognizing our own privilege(s) is important to solidarity work because recognizing our privilege(s) acknowledges that they exist! Then we can take intentional, thoughtful collective actions and uplift the most marginalized voices and elevate their leadership. Check out GLSEN's student resources on allyship and solidarity. If you're an educator check out the actions we've listed specifically for educators looking to be allies to LGBTQ students and all their intersecting identities.
---
Support
GLSEN is here to support any action you take this week! Email us at students@glsen.org with questions and we will do our best to get back to you as quickly as possible. Please also email photos and videos of your events so that we can highlight local work! And lastly, don't forget to register for Solidarity Week! You will get first invitations to all of our resources and materials for 2022 Solidarity Week.
Action
Solidarity Week is about learning and practicing solidarity, how others can show up for you and how you can show up for others. This is an opportunity to collaborate and work with other clubs, organizations, and engage all students in different activities and awareness events during the week. If your GSA, club, community group, or chapter is looking for ideas on ways to take action, check out our tools below.
---
Organize
Make sure to check out GLSEN's Student Guide to think about how you and your club want to participate in this week long action. Hold a meeting with your club and utilize this guide together in brainstorming and creating a plan. You can also run a Solidarity 101 workshop, or join GLSEN's Solidarity Week activities listed under "Action."
---
---
Tools and Resources
Check back each day during Solidarity Week for new posts each day!