Research Report
Erasure and Resilience: The Experiences of LGBTQ Students of Color
Latinx LGBTQ Youth in U.S. Schools
Image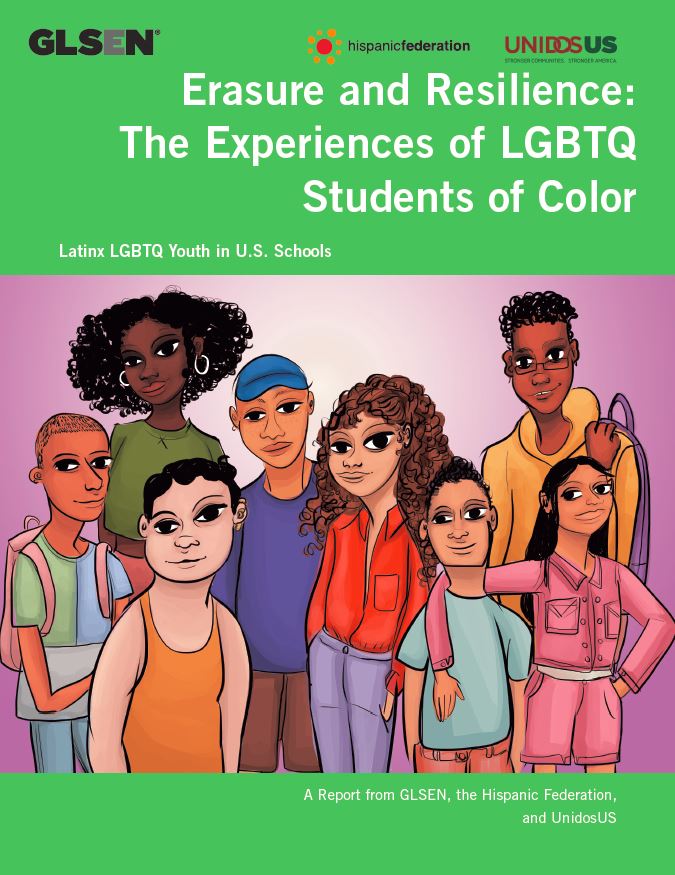 Erasure and Resilience: The Experiences of LGBTQ Students of Color, Latinx LGBTQ Youth in U.S. Schools is one of a series of reports on LGBTQ students of color that examines the school experiences of Latinx LGBTQ youth. Other reports in this series examine the experiences of AAPI, Black, and Native and Indigenous LGBTQ youth.
Experiences of racism, homophobia, and transphobia in U.S. schools are prevalent among LGBTQ youth of color. Prior research on LGBTQ youth of color in general has shown that schools nationwide are hostile environments for LGBTQ youth of color, where they experience victimization and discrimination based on race, sexual orientation, gender identity, or all of the above simultaneously. In addition, many LGBTQ youth do not have access to in-school resources that may improve school climate and students' experiences, such as student clubs and supportive educators. Because LGBTQ students of color are not a monolithic population, this report focuses solely on the school experiences of Latinx LGBTQ youth, examining indicators of negative school climate, as well as supports and resources.
This report was developed by the GLSEN Research Institute, in partnership with Hispanic Federation and UnidosUS, and examines:
Feelings of safety at school due to personal characteristics
Experiences of racist and anti-LGBTQ harassment and assault from peers
Effects of a hostile school climate on educational well-being and psychological well-being
Reporting harassment and assault to school staff and family members, and these adults' responses
Experiences with school disciplinary action
School resources and supports, including student clubs, supportive educators, and inclusive curriculum
Scroll down for more information about supporting Latinx LGBTQ youth.
About Study Partners
The mission of the Hispanic Federation is to empower and advance the Hispanic community. The Hispanic Federation provides grants and services to a broad network of Latino non-profit agencies serving the most vulnerable members of the Hispanic community. and advocates nationally with respect to the vital issues of education, health, immigration, civic engagement, economic empowerment, & the environment.
UnidosUS (formerly known as National Council of La Raza) has remained a trusted, nonpartisan voice for Latinos since 1968. UnidosUS serves the Hispanic community through their research, policy analysis, and state and national advocacy efforts, as well as in their program work in communities nationwide. UnidosUS also partners with a national network of nearly 300 Affiliates across the country to serve millions of Latinos in the areas of civic engagement, civil rights and immigration, education, workforce and the economy, health, and housing.