A Global School Climate Crisis
Insights on LGBTQ Students in Latin America
Image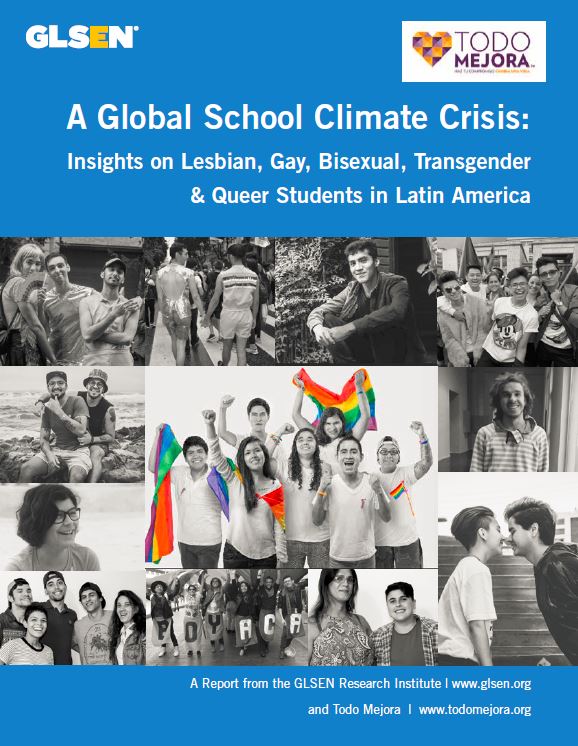 Ver este página y el informe en español aquí.
Veja esta página e o relatório em português aqui.
A Global School Climate Crisis: Insights on Lesbian, Gay, Bisexual, Transgender, & Queer (LGBTQ) Students in Latin America explores the school experiences of LGBTQ students in seven countries across Latin America: Argentina, Brazil, Chile, Colombia, Mexico, Peru, Uruguay. This report was created in partnership with Todo Mejora, a Chilean-based non-governmental organization (NGO) dedicated to the well-being of children and adolescents who experience bullying or suicidal behavior due to discrimination based on their sexual orientation, gender identity, or gender expression.
In 2016, GLSEN and Todo Mejora worked with eleven other NGOs in Latin America to conduct national research on the experiences of LGBTQ secondary school students in seven countries across the region: Argentina, Brazil, Chile, Colombia, Mexico, Peru, and Uruguay. A Global School Climate Crisis draws from these seven studies to compare school climate for LGBTQ youth across Latin America. This report explores:
Hearing biased language from both students and educators
Experiences of harassment and assault
Effects of hostile school experiences on educational outcomes and psychological well-being
The availability and utility of supportive school resources
Similarities and differences in student experiences across countries
This report also considers differences in culture, language, social norms, and national legislation that may influence LGBTQ student experiences.