Valentine Road is a powerful film that compels us all to examine the issues surrounding the murder of Larry King and to find ways to make our own schools and communities better. While considering the complexities of the situation, we can't help but draw parallels to our own lives.
GLSEN and HBO have created this Viewing Guide to help frame these important discussions in a meaningful, purposeful and safe way. You will find guidance on how to use Valentine Road, how to discuss the film, additional resources for educators and students and suggested actions to create and sustain respectful, healthful and safe school environments.
This resource is designed to be used by educators and student leaders working together to positively impact their school communities.
---
Key Components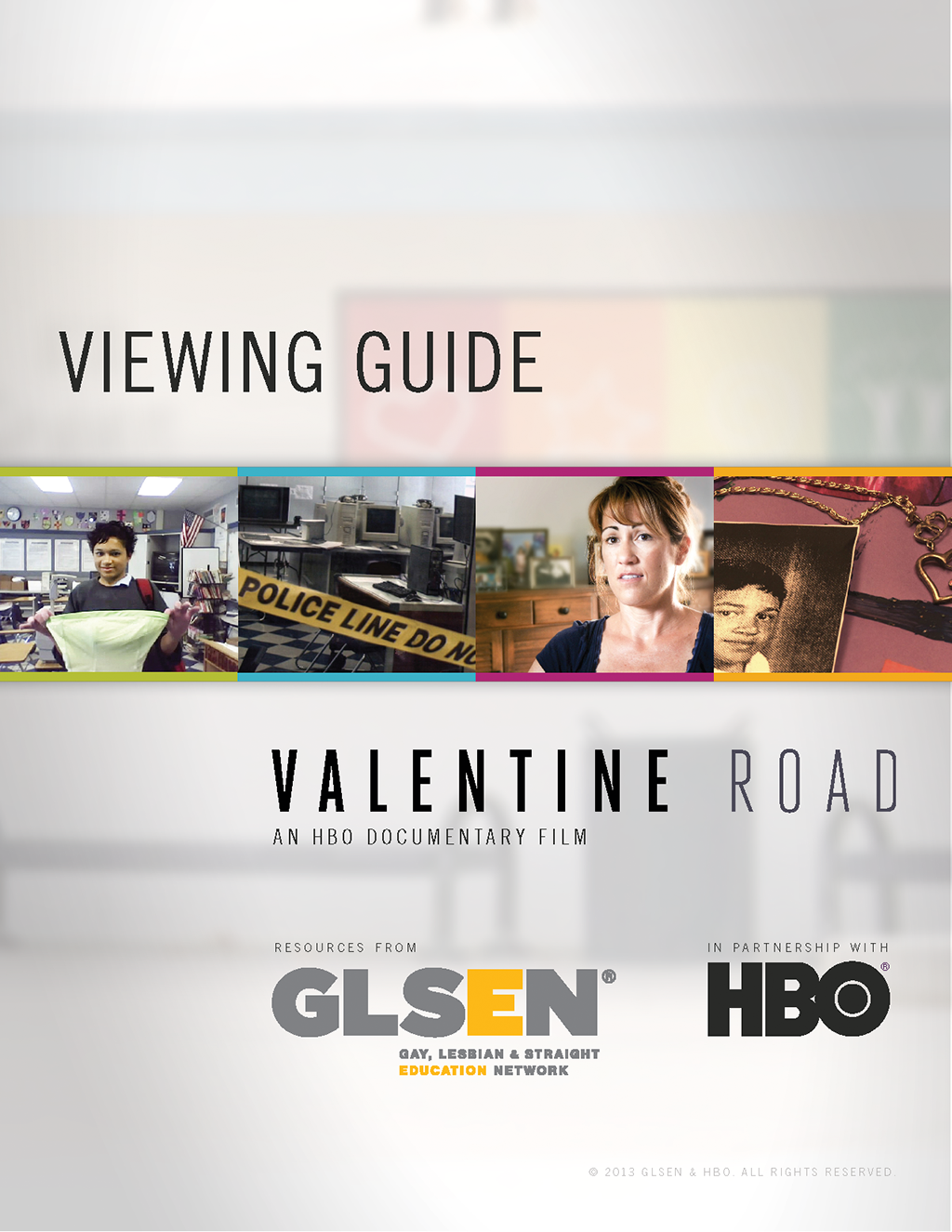 The Valentine Road Viewing Guide is organized into four sections, each filled with tips, tools and advice for coordinating a group viewing of the film.
Introduction: Read this section to understand the issues raised in the film and how your school community can benefit from watching and discussing Valentine Road.
Preparing for Valentine Road: Given the graphic nature of the film, any group viewing should be planned with the utmost care and thought. Read this section to ensure that you are meeting the needs of your audience, especially student viewers.
Learning from Valentine Road: Both educators and students can learn from watching and discussing the film. Read this section for age appropriate guidance on framing the experience and facilitating productive conversations.
Responding to Valentine Road: After watching and discussing the film, members of your group will be inspired to act. Read this section for relevant resources and suggested actions for educators and students. Print the pages and use them as handouts at your event.
---
How to Use Valentine Road in Your School Community
Educators and students, alike, may benefit from exploring the issues at play in the film and connecting those issues to their own schools. However, the make-up of your audience will create a unique set of opportunities and challenges when watching and discussing the film.
Here are some examples of group viewing events that might work for you.